Speech
♥
 Writing 
♥
Drama
♥
EQ
Nursery Speech and Drama with Public Speaking Programme
A specialized programme tailored for nursery level. Find out more about our programme below!
Speech
♥
 Writing 
♥
Drama
♥
EQ
Nursery Speech and Drama with Public Speaking Programme
A specialized programme tailored for nursery level. Find out more about our programme below!
Speech
♥
 Writing 
♥ 
Drama
♥
EQ
Nursery Speech and Drama with Public Speaking
Our specialized programme focuses on both IQ and EQ – developing your child's speech, reading and public speaking skills, plus using drama to nurture their EQ skills and build confidence!
Key Areas Covered In Nursery Programme
Click on each area below to find out more!
Teaching Clarity of Speech and Accurate Pronunciation

Specific words are introduced and chosen to teach our kids the technicalities of accurate pronunciation. Kids learn how to pronounce diagraphs, consonants and middle consonants accurately. They learn how to breakdown longer words for more precise articulation.
Expression! Expression! Expression!

There is a heavy focus on teaching our kids how to speak and present with expression. We work on Speech Exercises using their speech helpers (tongue, lips, soft and hard palette). In time, these exercises will improve their speech and set an awareness of correct pronunciation. Introduced at an early age, kids will have no trouble keeping an audience intrigued and engaged in future.
Introduction to Public Speaking
With speech and drama for Nursery, children are introduced to the importance of accurate speech for the real world. In the classroom, our kids get used to public speaking through drama-based activities. Each week, they are required to present what they have learned through Creative Drama, when they assume different characters and personas.
Stepping Up in a Group for Public Speaking

Our kids develop their public speaking skills further through formal group presentations. They learn the importance of their individual voices when presenting as a group. They also cultivate EQ skills like teamwork and active listening. Most importantly building confidence!
Teaching through drama is an excellent way for young minds to absorb what they are learning. When kids are introduced to drama at an early age, it creates a positive mindset towards acquiring knowledge.
Drama is used to reinforce EQ skills that are taught in class. These include Social Skills, Empathy, Presentation Skills, Teamwork and Decision Making. These are important soft skills and values needed to develop our kids holistically.
Creative Drama to Build Confidence
At the tender age of four, our Nursery kids are introduced to creative drama and improvisation. Creative Drama teaches social skills, where children learn to interact with peers in and out of character. Kids are taught to imagine and think out-of-the-box. This cultivates the habit of thinking about possible actions, communicating their thoughts and learning how to problem solve! During drama time, kids role play and experience situations where they are asked 'what-if' questions and are prompted to problem-solve. This experience each week helps them to 'think-out-of-the-box' and build on communication skills, but most importantly – Confidence! These learned presentation skills developed at a young age is a good foundation to prepare them for Public Speaking.
Introduction to Reading and Processing Words with Phonics
Our kids learn to read through word recognition, sight words and memory. There is a strong focus on the accurate pronunciation of diagraphs such as 'th' sounds. This develops a strong foundation in accurate expression at a young age.
Cultivating an Interest in Reading

The literature used in classes cover a range of topics, characters and stories that inspire and motivate our students in their learning. Various teaching strategies are used to cultivate within students the desire to expand their knowledge, or to find out 'why' beyond the classroom.
Working on 'Sight Words' and Building Vocabulary

Our nursery kids learn to read through word recognition, sight words and memory. Kids are exposed to 'sight words' to help them build a strong foundation. In addition, they are taught to match new words learnt to the corresponding images on their hand-outs to reinforce the lesson.
Educational Drama to Nurture EQ skills
Lesson plans and literature used in our curriculum incorporate EQ skills which are taught and applied through educational drama. Our nursery kids will be introduced to specific EQ skills, which are interwoven with the lesson plan. Through this platform, our kids enact real-life scenarios and learn how to respond in different situations. They are given the opportunity to process their experiences and manage their emotions constructively. This forms an emotional connection with what they study, which allows for more effective learning.
The teaching of EQ skills stands as a priority in LoveKids. EQ skills and social skills cultivate self-awareness, self-regulation and self-motivation within a child. Traits that are vital for success and happiness. Some examples of the EQ skills taught include Communication Skills, Teamwork, Empathy and Decision-Making.
Hands-on activities are incorporated into each lesson to test each student's understanding and fine-motor skills. This builds their hand-eye coordination.
Assessing Response to Instructions

Our kids are assessed on their ability to process and respond to instructions. Through hands-on activities, teachers can determine whether they are able to process what is being taught and instructed.
Expanding on Lessons at Home
We stress the importance of expanding on your child's learning. Parents are repeatedly encouraged to expand on their child's learning at home. This creates an environment that facilitates the on-going learning of the child beyond the classroom. In so doing, lessons are reinforced and used as a platform for further learning. Handouts for each lesson are designed to aid in the expansion of learning that should take place at home.
Kids who are exposed to a stage performance and presenting in front of a live audience at an early age, grow in confidence gradually. They learn to manage and overcome their emotions in front of an audience. In time, this will lead to a breakthrough within themselves where they learn how to present with ease before a group of people.
Truly, children learn a hundredfold with speech and drama. What they take with them as they mature and grow up, is indeed, a Life Skill.
"Time flies. My dearest daughter has been with LoveKids for more than 8 years. There are many more years to come as she will be continuing her secondary journey with LK Academy. I can still remember how desperate we were then – with a 3 year old girl (my daughter) who was traumatized by her short stay with her first Childcare Center. We were very blessed to meet Teacher Nonis, who changed my daughter's life. My daughter had serious separation anxiety issues. She also had problems articulating in English then. In Primary 1, she had problems understanding English and Maths questions. We were so worried that she may not be able to cope in school. With Teacher Nonis' guidance and encouragement, Rui Teng has proven herself. Not the cream of the crop but a shining star in her own, unique way. We started to notice the change in her when she was in Primary 4. Things started to change in a good way. She was awarded Good Progress in Primary 4. She achieved one of the Top 3 in her Primary 5 class and this year (2020), she was one of the Top 3 in her Primary 6 class…
JESLYN, Mother of 
Rui Teng, P6
"It was by God's grace that I found LoveKids four years back when I noticed Niklaas, my three-year-old then lacking confidence when conversing with others. Though their classes were full, Margaret and Fred did not reject us but instead took us in and even went the extra mile of working with Niklaas one-on-one beyond his weekly class. Armed with their extensive experience working with children to overcome their respective behavioural or speech-related issues, coupled with their passion for teaching and genuine love for children, Margaret, Fred and Rachel helped Niklaas overcome his setback of a speech delay – helping him blossom into the confident, outspoken and happy child that he is today.. The commitment I have seen and observed of the LoveKids Team is unparalleled – thank you so much Team LoveKids for the guidance you have shown Niklaas, Lukas and me and for the love that you continue to shower on them!
WAI LING, Mother of 
Niklaas, P5 and Lukas, P2
Enrol in Our Nursery Speech and Drama with Public Speaking Programme Today
Enrol in our programme today and let your child grow with CONFIDENCE!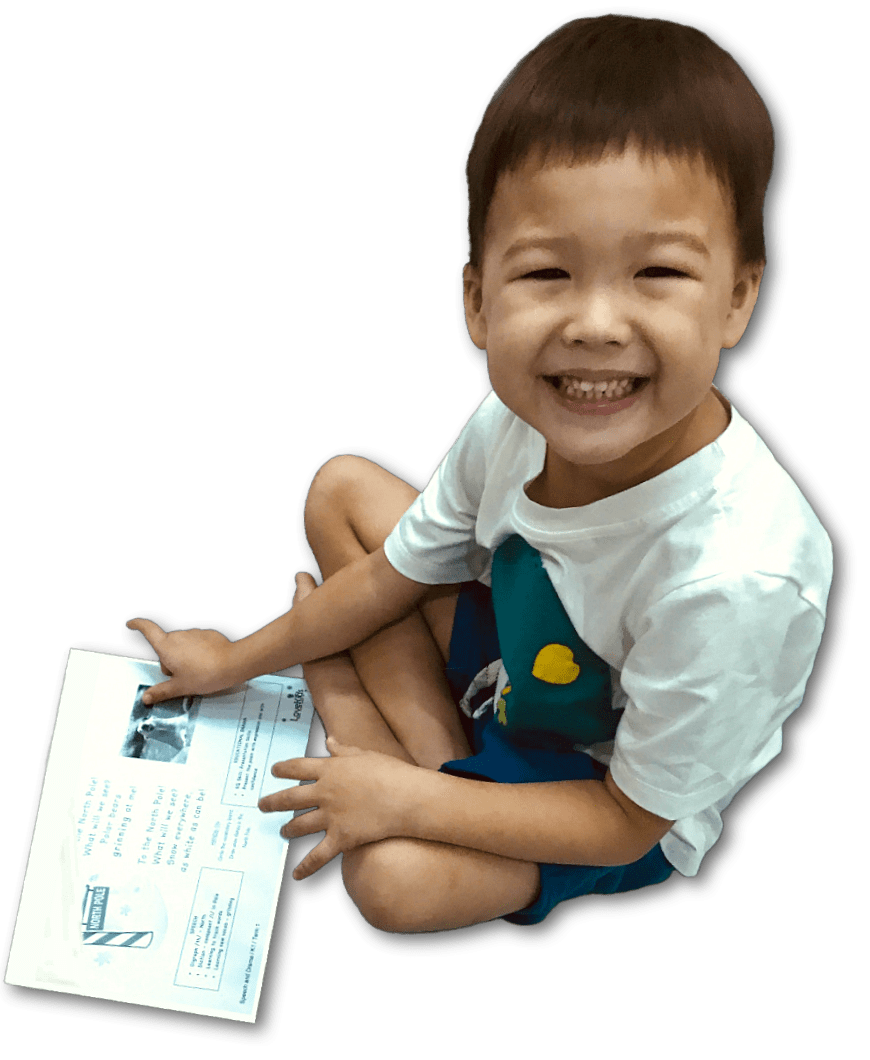 Click here for our primary and secondary programmes!