Speech
♥
 Writing 
♥
Drama
♥
EQ
P1 Preparation Programme for K2
A programme for K2s to build confidence and be ready for Primary 1. Find out more about our programme below!
Speech
♥
 Writing 
♥
Drama
♥
EQ
P1 Preparation Programme for K2s
A programme for K2s to build confidence and be ready for Primary 1. Find out more about our programme below!
Speech
♥
 Writing 
♥ 
Drama
♥
EQ
A P1 English Prep Programme for K2s
Our K2 programme acts as a springboard, launching our kids into P1 with smiles and confidence. Our lessons focus on a comfortable transition for your child, bridging the gap between K2 and Primary 1. Click on each area below to find out more!
Accurate Pronunciation – Diction and Articulation

At the K2 level, kids are conditioned to be mindful of their pronunciation at every lesson with a continued emphasis placed on Phonics. As their vocabulary is expanded with every lesson, kids are introduced to complex words that require more practice in pronouncing.
Working on 'Sight Words'

The K2s enjoy an in-class activity 'I Spy' which teaches them the practice of recognising and remembering sight words each week.
Building Vocabulary

More vocabulary, phrases and idioms are introduced at this level to prepare them for Composition Writing in Primary 1. They are simultaneously introduced to new words, expanding and strengthening their vocabulary at a young age. Kids with a wider vocabulary are better able to express themselves, helping them grow in self-awareness and confidence. To expand on vocabulary, students are also taught idioms or "Show-not-Tells." These provide a great foundation for them when they move to writing compositions at Primary 1.
Building Grammar for Creative Writing/Composition

K2 students learn the various parts of speech i.e., adjectives, nouns, prepositions, present and past tense. This is done through focus-driven lessons and worksheets that target one area of focus per lesson. This allows for a comprehensive study of key areas of English at a foundational level.
Reinforcement of Tracking

At the K2 level, kids still need guidance in word tracking. At this age, it is possible that students exhibit tendencies to skip lines when they read. As the academic year passes, they are slowly weaned off the act of 'tracking' words by Term 4 as they rely on proper eye coordination.
Presentation Pointers Needed in Primary 1

Presentation Pointers are taught to prepare our kids for Reading Aloud and Oral in Primary 1. The basics of Expression, Projection and appropriate body language/posture are stressed at this juncture.
Public Speaking is a formal act of addressing a live audience face-to-face. With speech and drama for K2 level, kids are taught the importance of accurate speech for the real world.
Public Speaking Through Drama-Based Activities

Week after week, our kids slowly develop public speaking skills as they are required to present what they have learned through Drama, when they assume different characters and personas.
Stepping Up in a Group for Oral Presentation

Kids learn more EQ skills when they work as a group. In learning group dynamics, they see the fruits of having good Social and Communication skills. With these, they learn to strike the balance between asserting their own points and compromising to agree with their peers.
Individual Oral Presentations

More opportunities are presented to K2s to encourage them to step up for Solo Presentations. They are given sufficient 'air-time' to employ Presentation Pointers such as expressing emotion at appropriate points.

The Primary 1 "Show and Tell" format is introduced to students, with LoveKids teachers delving into the rubrics by which they are assessed. A range of common "Show and Tell" topics are covered to allow kids to develop appropriate vocabulary well ahead of their own "Show and Tells" in school.

Our kids have the chance to take on roles that are centered on Public Speaking. Some examples include their presentations as 'Reporters' reporting 'live' from specific locations. These roles are explored and expanded upon further in our year-end shows. With the opportunity to try out new roles, kids learn how to assess the different environments they are placed in and employ the appropriate methods of engaging their audience.
Drama is used as a medium through which students learn to master the English language. It is an effective learning tool that caters to the different learning styles of students within the classroom. Visual, auditory, reading/writing and kinesthetic learners respond well to dramatization of the different components in their English examination.
In-Class Drama Activities

As part of our pedagogy, LoveKids teachers dramatize different components of the English paper, such as comprehension excerpts or a plot for composition. Likewise, students are also required to participate in a drama activity based on the lesson at the end of every class. K2s are eased into a fun and relaxing environment where drama is used to visualise and learn. This weekly exercise of creativity and exposure to performance allows them to grow in self-awareness and confidence.
K2s are introduced to a wider range of EQ skills. The teaching of EQ skills stands as a priority in LoveKids. EQ skills and social skills cultivate self-awareness, self-regulation and self-motivation within a child, traits that are vital for success and happiness. Some examples of the EQ skills taught include Communication skills, Empathy, Teamwork and Decision-Making.
What is taught in the classroom will allow the children to digest at their own pace. In time, children will be able to apply all they have learnt to other areas of their lives.
Through this, children will learn to feel confident, be motivated, and believe in themselves! Most importantly, we want all these to come from within!
Educational Drama to Learn EQ Skills

Lesson plans and literature used in our curriculum incorporate EQ skills which are taught and applied through educational drama for betting understanding.  For example, complex EQ skills such as Empathy are better grasped through dramatization. Through this platform, kids enact real-life scenarios and learn how to respond well in different situations.
Expanding on Lessons at Home
The themes chosen for each lesson are meant to excite and intrigue kids. Parents are repeatedly encouraged to expand on their child's learning at home. This creates an environment that facilitates the on-going learning of the child beyond the classroom. In so doing, lessons are reinforced and used as a platform for further learning.
Introduction to Creative Writing and School-based Composition Writing
At the K2 level, we plant the seed of good writing by inspiring our kids with exciting themes that encourage a love for writing. Good composition writing requires a good plot, sequence and vocabulary.
Composition Basics

Students learn how to begin their journey of writing with a "Story Mountain." The different parts of the story mountain help them discover the importance of flow in their own stories.

Dramatising the plot helps to create a clearer understanding of the Story Mountain. This form of visual learning is a great tool to help them generate ideas through brainstorming.
Incorporating Vocabulary and "Show Not Tell"

Our K2s learn how to spice up their stories with interesting vocabulary and "Show Not Tell" which are descriptive phrases that describe emotional responses.
Introduction to Open-Ended Comprehension
Reading for pleasure puts a child at ease. However, reading to understand and answer questions can prove to be more challenging. Our K2s need to be eased into this practice with informative and enlightening themes that draw them.
Introduction to "Compre Skill Set"

Our K2s are taught how to "read to understand" and inculcate visual learning in the process. They are introduced to the "Compre Skill Set", which allows them to breakdown questions into smaller components for better understanding.
Developing Inferring Skills

The habit of questioning, inferring and making intelligent guesses goes a long way in their education. With constant guidance, this gesture of going 'beyond the surface' and 'reading between the lines' in their responses will be of great help for Comprehension and Oral Exam components of their English exam in the future. Prompting questions and prompting scenarios are included to spark the skill of inferring at an early stage.
Unlike what they are used to in school, the Year-End show at LoveKids exposes each child to solo performance and public speaking. Some of our shows are inspired by our kids' own work in class. As they present and perform in front of a live audience, they gradually grow in confidence.
They learn to manage and overcome their emotions when they are in the spotlight. With time and patience, this will lead to a breakthrough within themselves where they learn how to present with ease in front of a group of people, a relevant exercise to prepare them for Show and Tell and Oral Presentation in Primary 1!
"Time flies. My dearest daughter has been with LoveKids for more than 8 years. There are many more years to come as she will be continuing her secondary journey with LK Academy. I can still remember how desperate we were then – with a 3 year old girl (my daughter) who was traumatized by her short stay with her first Childcare Center. We were very blessed to meet Teacher Nonis, who changed my daughter's life. My daughter had serious separation anxiety issues. She also had problems articulating in English then. In Primary 1, she had problems understanding English and Maths questions. We were so worried that she may not be able to cope in school. With Teacher Nonis' guidance and encouragement, Rui Teng has proven herself. Not the cream of the crop but a shining star in her own, unique way. We started to notice the change in her when she was in Primary 4. Things started to change in a good way. She was awarded Good Progress in Primary 4. She achieved one of the Top 3 in her Primary 5 class and this year (2020), she was one of the Top 3 in her Primary 6 class…
JESLYN, Mother of 
Rui Teng, P6
"It had come to the year end show at LoveKids. Once again, my child would perform on stage in class. He was just amazing, filled with confidence and excitement. At that moment, I began to have a flash back to 4 years ago when we first came here. He was totally different, he had speech difficulties and behavioural issues with temper tantrums and frequent breakdowns. I remembered I could hardly hold myself together then. The teachers at LoveKids were indeed kind and loving to show us the way to helping him out. As a clueless parent at a loss as to what I should do, I followed their advice and through weeks of drama classes and therapies, my son showed significant improvement over time. I could hardly believe the transformation. Not only that, he brought what he had learnt at LoveKids to his Kindergarten graduation show. His voice could be heard across an audience of about 200 people. It was truly a magical experience as I had never thought that would be possible at all. Here, I would like to thank all at LoveKids for what they have done for us.
SEAN, Father of 
Kai Lun, K2
Enrol in Our P1 Prep Programme for K2 Today
With drama, children have fun and learn. Enrol in our programme today and let your child grow with confidence!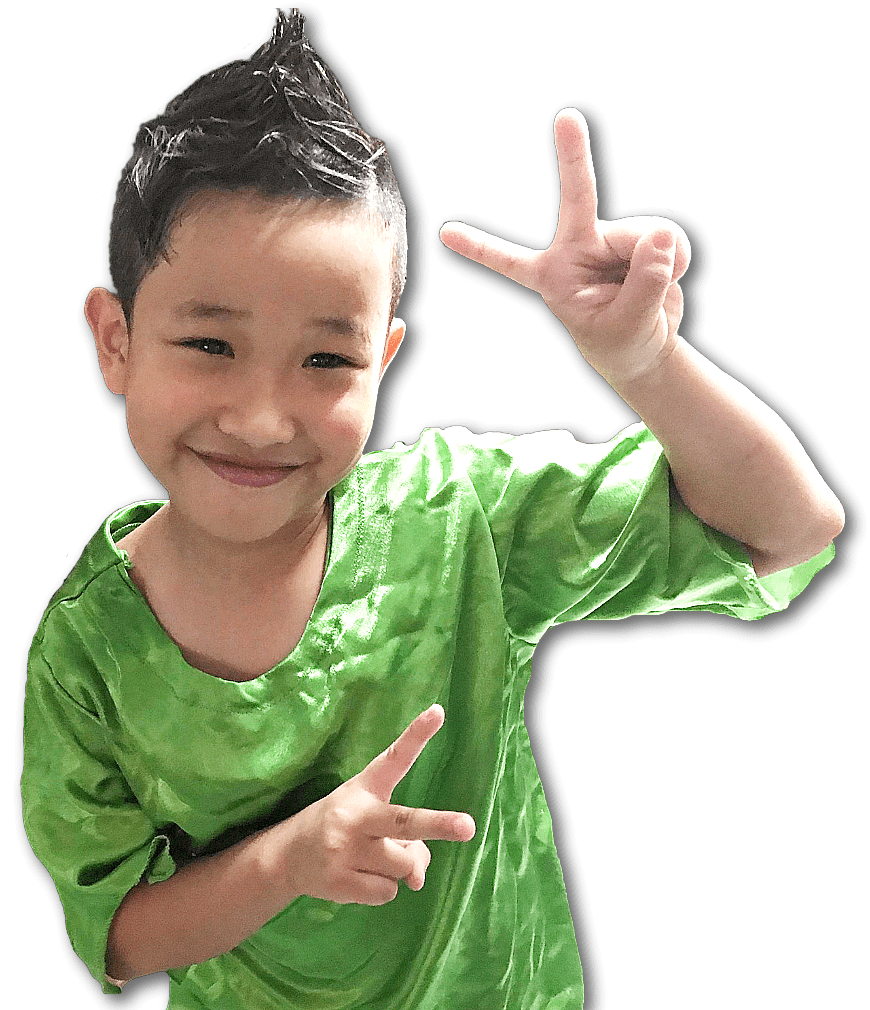 Click here for our primary and secondary programmes!