♥ Testimonials and Reviews ♥

From a Speech Setback to GEP Programme
"
And just like that, 9 years passed since I came through LoveKids' doors with 3 year-old Niklaas (and newborn Lukas) in tow – seeking help for a wee boy whose speech delay impacted his confidence in interacting with others at school. Watching him in his final stage performance at LoveKids yesterday was bittersweet as not only did he overcome his speech delay, he had progressed far beyond – meeting the challenges and rigour of the GEP program with grit, determination and a dash of humour; representing his school and sparring with opponents in debates; strutting onstage year on year and delivering performances with confidence – a critical life skill that LoveKids seeks to impart to their charges.
Niklaas' achievements would not have been possible if not for the intervention, guidance and support that Teacher Margaret Nonis accorded him and me as a concerned mum. Though her speech & drama class then was full, she welcomed Niklaas with open arms and equipped him with the skills and confidence with which to interact with other children and adults alike; Though it was not in scope, she put in additional hours outside of curriculum to work with Niklaas one-on-one to speed up his rehabilitation and progress; Through her dedicated writing program, Teacher Rachael Nonis honed Niklaas' writing skills – nurturing him into the imaginative, creative and expressive writer that he is; Through Uncle Fred's loving yet firm ways, a father figure away from home indeed, Niklaas learnt what it means to be consistent, disciplined, steadfast and of how far grit and determination can bring you – further than you can imagine.
I often struggle to articulate to others what my boys learn and take away from LoveKids, particularly parents whose primary focus is on honing their children's academics and who brush off speech & drama as 'sing and dance' that only preschool kids require – oh how wrong they are. While I greatly appreciate the support LoveKids renders on the academic front, it's the unseen that I appreciate most – how teachers help keep their charges centred, develop their EQ skills, strengthen their emotional quotient, serve as their confidant and moral compass – all with an aim to bringing out the best in them and setting them up for life.
LoveKids is family to us and will never be far from our prayers and hearts. Thank you for everything.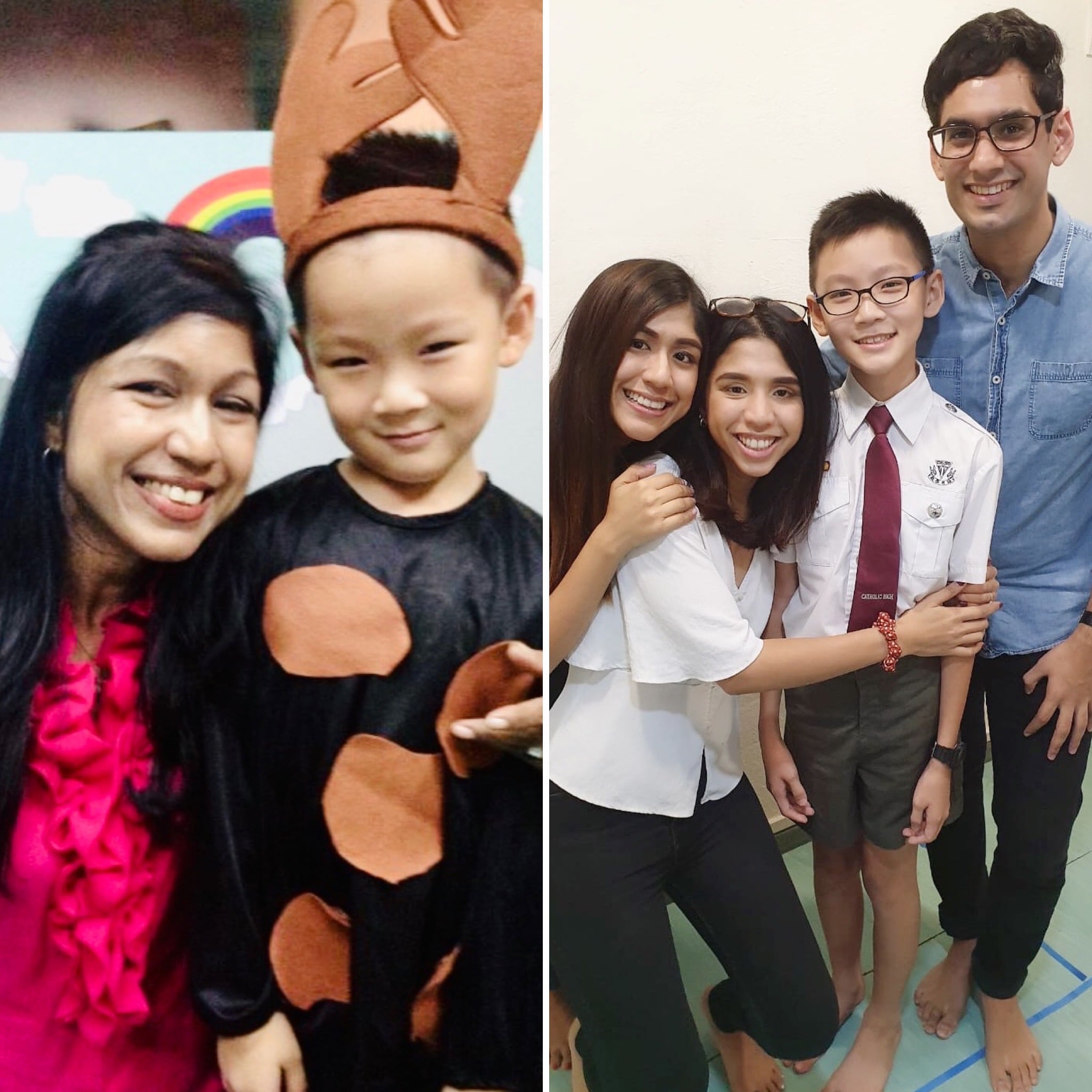 WAI LING, Mother of
Niklaas, P6 (GEP) and Lukas, P3
With Confidence a Child can Shine!
"
Time flies. My dearest daughter has been with LoveKids for more than 8 years. There are many more years to come as she will be continuing her secondary journey with LK Academy. I can still remember how desperate we were then – with a 3 year old girl (my daughter) who was traumatized by her short stay with her first Childcare Center. We were very blessed to meet Teacher Nonis, who changed my daughter's life.
My daughter had serious separation anxiety issues. She also had problems articulating in English then. In Primary 1, she had problems understanding English and Maths questions. We were so worried that she may not be able to cope in school. With Teacher Nonis' guidance and encouragement, Rui Teng has proven herself. Not the cream of the crop but a shining star in her own, unique way. We started to notice the change in her when she was in Primary 4. Things started to change in a good way. She was awarded Good Progress in Primary 4. She achieved one of the Top 3 in her Primary 5 class and this year (2020), she was one of the Top 3 in her Primary 6 class.
English has always been her weakest link. We were very concerned and worried that she would not be able to attain decent PSLE results. We thus tried DSA for her, hoping to get her an enrolment in the school of her choice.
She was offered enrolment from two Secondary Schools. Despite having secured enrolment in the schools, she continued working hard for her PSLE. Never in my dreams would I have thought that she would do so well in her PSLE! She obtained an A for her English. She is really an example of: With confidence, a child can shine as bright; With perseverance, a child can overcome all the hurdles.
Thank you for everything, Teacher Nonis and LoveKids!
JESLYN, Mother of
Rui Teng, P6
"
We have seen Zafeer grow under Teacher Thalvin's guidance. He looks forward to his classes with Teacher Thalvin and he is able to express himself better now! Sometimes he even surprises us with his ideas and speeches.
Thank you Teacher Thalvin for your guidance and we look forward to a fun year in 2021!
NORIMAH, Mother of
Zafeer, K1
From K2 to P6 Confidence for PSLE Programme
"
Hi Rachael, thank you for your dedication in guiding Ryan all these years. I remembered how shy and reserved he was when he was in K2 and it was with great pride to see him blossom to be a confident young man on stage and in his academic performance.
I am very thankful to you in giving him the encouragement and extra support prepping him for this PSLE this year. Both you and Margaret have been a pillar of support for him and me. We wouldn't achieve so much if its not for the both of you. Thank you!
MELODY, Mother of
Ryan Sng, P6
A Special Letter of Appreciation
"
It had come to the year end show at LoveKids. Once again, my child would perform on stage in class. He was just amazing, filled with confidence and excitement. At that moment, I began to have a flash back to 4 years ago when we first came here. He was totally different, he had speech difficulties and behavioural issues with temper tantrums and frequent breakdowns. I remembered I could hardly hold myself together then. The teachers at LoveKids were indeed kind and loving to show us the way to helping him out. As a clueless parent at a loss as to what I should do, I followed their advice and through weeks of drama classes and therapies, my son showed significant improvement over time. I could hardly believe the transformation. Not only that, he brought what he had learnt at LoveKids to his Kindergarten graduation show. His voice could be heard across an audience of about 200 people. It was truly a magical experience as I had never thought that would be possible at all. Here, I would like to thank all at LoveKids for what they have done for us.
SEAN, Father of
Kai Lun, P1
Confidence for English Programme
"
Sharing this proud moment with the LoveKids team. Top in her cohort. Thank you all for your patience and coaching of both the New kids
.
MAVIS CHEE, Mother of
Kayla New, P2
Nursery Level Speech and Drama
"
My elder boy, Luke, joined the LoveKids' English Speech & Drama at his kindergarten when he was 4 years old. I can tell that he enjoys every lesson thoroughly, even till now when he is 6.
The role play and dramatization of the characters have significantly helped to develop his keen interest and knowledge in the various subjects, especially on dinosaurs, outer space, astronauts, the fairytale series (sleeping beauty, cinderella, little mermaid).
At 4 years old, my hubby and I were pleasantly surprised when one day he came to tell us about the different types of dinosaurs that he learnt from his speech and drama class and he was able to pronounce their long names correctly.
Luke will also tell us about Aurora in Sleeping Beauty, Ursula in Little Mermaid (he even pretends to speak like the sea witch), the Martian Rocks, etc.
MRS LIM, Mother of
Luke and Isaac, Nursery
"
It was a very good performance! Thank you so much. The last part was very touching. When they handed over the little note, I actually teared.. I see the growth in her through these 3 years in LoveKids 
 thanks for everything.
MEOW LING, Mother of
Xenia Chye, P4
P4 Confidence for English Programme
"
Thank you teachers for the guidance, care and love given to Rachel for the past year. Without your supervision, she would not have achieved such good results! Thank you!
LENG LENG, Mother of
Rachel Liu, P4
K2 Programme and P3 Confidence for English
"
I am very blessed to find the right centre for my girls with devoted teachers.  I am confident that my girls will grow to their fullest potential under your guidance.
SELENE, Mother of
Ee Shan, P3 and Ee Qian, K2
Nursery Level Speech and Drama
"
The experience of the Multi-Intelligence Speech and Drama Programme conducted by LoveKids has helped Nicole to better express herself in speech, in song and in acting. Diction, tone and timing have improved, with a wider range of facial and body expressions, including an 'impish twinkle in her eyes'.
VALERIE LEE, Mother of
Nicole, Nursery
P2 and P3 After-Exam Show
"
A special shout out to teacher Margaret & teacher Rachel from LoveKids. Thank you so much for not only cultivating the love of reading & writing in my kids, Matthew & Rachel, but also teaching them to be confident, kind & caring. Your interest in my children's overall wellbeing just makes it all more special. Matthew, from being a shy, timid boy to a confident "King Arthur" on stage was just very comforting 
LENA VARGIS, Mother of
Matthew, P3 and Rachel Chacko, P2
"
Dear Teacher Nonis, thank you for your feedback and most importantly warm appreciations for making the speech and drama class fun and educational. We certainly witness the speech ability of Jen Han from attending the class. Cheers!
JEAN, Mother of
Jen Han, K1
"
I am glad that my 2 kids enjoyed the workshop & they can learn something from LoveKids. They both can perform very well….amazing! Thank you very much. LoveKids' teachers put alot of effort into it. Once again, thank you all teachers and helpers of LoveKids. The parents enjoyed the performance very much.
VENESSA LIAN, Mother of
Benjamin and Justin Ho
"
I'm very impressed with the quality of costumes, set-up and songs prepared for the workshop. Most importantly, it's the retention that I observered after each day. She would sing the rhymes, say phrases and dance. I would bring her for more!
MICHAEL KOH, Father of
Venus Koh

Give Your Child The Gift of CONFIDENCE
With drama, children have fun and learn. Enrol in our programmes today and let your child grow with confidence!
Click here for our primary and secondary programmes!